Product Description
SHIPPING INFORMATION
WHY BUY FROM US
Ratings & Reviews
Compare kits
"A New Dawn for Outdoor First Aid Kits"
A REAL WATERPROOF KIT! Unlike other kits that find dumb ways to claim they are "waterproof", Surviveware has gone above and beyond to make a next-level first aid kit. This kit has welded seams as opposed to stitching and glue. The kit also comes with a Water-tight Zipper. Each kit also comes with lubrication gel since the zippers need to be lubricated from time to time to stay waterproof.
A WORLD FIRST! This First Aid Kit is 100% water tight with an IPX7 rating. This means the kit can be kept underwater for 30 minutes up to a depth of 1 meter. If the kit was in salt water, remember to rinse it off with fresh water. The zippers are designed for comfort, but are strong to keep out any moisture. That's why we also added grip adjustment pullers to the bag so you can open and close it quickly and effectively.
LABELED COMPARTMENTS! At Surviveware we make preparedness easy. During an emergency, stay calm and let the bag do the thinking for you. Every section is labeled, so you can find what you need in a heartbeat. All Surviveware kits are designed with ease in mind to help you perform the task at hand and be a hero. This revolutionary kit is no different. It's well and truly a World First for travelers, hikers, and boaters.
THINK VERSATILITY! This kit also comes with a removable MOLLE compatible system with D-rings. This means you can adhere it to car headrests, backpacks, roll bars and around the boat and kayak. You need a kit on hand at all times. This kit can even be adhered vertically to the material in your car's trunk. Rather than taking up space in your backpack, strap it in on the outside of your bag, ready for an emergency and out of the way of other useful supplies.
QUALITY MATERIALS! This bag is made from 600D TPU. It's strong and will not rip, we stake our reputation on it. If you're not happy, send it back for a full refund. All internal supplies are top-notch, from the stainless steel shears to the CPR pouch with one-way mask and CPR instructions embedded in the pouch.
 WHY CHOOSE THIS FIRST AID KIT?
It's the most durable Waterproof bag in the market with 600D TPU and a quality water-tight zipper.

Each inner sleeve is organized by category. During times of need, get to the right items quickly. After items are used, easily see what needs to be replaced and keep your bag organized for the next use.

We encourage people to add their own items; you have a little extra space available for your unique requirements.

Each person is unique. A pocket separated from the other sleeves will safeguard your personal medication.
Taking your Travel Spear out for a stroll? It's best to go Prepared...
Going fishing is a time to relax and unwind. That said, every sport has its injuries. don't get caught with a fish hook in your hand and be mindful with the pointy end of that travel spear! Accidents happen in a second, and even though we hope we never need to use our first aid kit, it's good to travel prepared.
What's inside the kit?
Quality First Aid Supplies:
600D TPU Bag(1), 7.5" Shears(1), Wipes - Alcohol(10), Sting Relief(10), Cleaning(10) Adhesive Bandages: Butterfly - Large(5), Butterfly - Medium(5), Large(5), Standard(30), Square(5), Mini(5), H-Shape(5), Combine Dressing(1), Conforming Bandages(6), Gauze Swabs(10), CPR Bag with Instructions(1), CPR Mask(1), Ear Buds(20), Emergency Blanket(1), Eye Pads(3), Fever Strips(3), First Aid Handbook(1), Nitrile Gloves(2), Hydro Gel(5), Hypo-Allergenic Tape(1), Non-Adhesive Dressings(10), Personal Laminate Baggies(6), Pressure Bandage(1), Safety Pins(10), Skin Cleaning Wipes(10), Splinter Probes(10), Wound Strip Closures(9), Triangular Bandage(2), Tweezers(1), Whistle(1), Wound Dressings(2).
Waterproof Zips and Material
D-Rings so it can be hung on hooks.
MOLLE system so you can easily adhere it to your bicycle seat or bars.
MOLLE Snaps and Straps so you can adhere it to a larger bag with ease.
Adjustable Strap so you can hang it to a roll bar.
Perfect for Outdoor Sports
A World First for Outdoor Enthusiasts
The only Waterproof First Aid Kits on the market use dry bags to keep supplies dry. Do you really have time to unwind the bag's straps, poor out the content and try to find what you need in an emergency?
The Surviveware Waterproof First Aid Kit comes with labeled compartments and a Waterproof Zipper so you can open the bag quickly, find what you need, and administer aid.
Easily straps to your truck's roll bar
Free Shipping for all USA orders, if you by $25 or more!
Most US based orders are shipped directly from our warehouse within 24-48 hrs for your convenience and maximum efficiency.
Your product will arrive within 7 to 10 Business Days.
We offer 2 Day Expedited Shipping 1 Day Priority Shipping. See you cart for more details. Returns Information:
We offer a 60 day 100% Satisfaction guarantee or your money back. Please contact us for return requests.
WHY TRUST SURVIVEWARE?
At Surviveware, we think preparedness, we live survival, and we breathe first aid. Our kits are loved by thousands and thousands around the world. We are a small family run company that has become a trusted brand in the backpacking, camping and preparedness world. With quality products and care, we ensure each customer gets what they paid for and is treated like family.
WHY CHOOSE THIS SURVIVAL FIRST AID KIT?
It's the most durable bag in the market with 600D polyester and quality zips.
Each inner sleeve is organized by category. During times of need, get to the right items quickly. After items are used, easily see what needs to be replaced.
We encourage people to add their own items; you have a little extra space available for your unique requirements.
Each person is unique. A pocket separated from the other sleeves will safeguard your personal medication.
Don't be fooled by cheap imitations. A lot of other companies have tried to copy our kits, but they always fall short.
Customer Reviews
Write a Review
Ask a Question
07/09/2020
Garry G.
United States
SURVIVEWARE WATERPROOF FIRST AID KIT
Just received the kit today. Of course we haven't used it yet, and pray that we will never need to, but it is great to know that we'll be prepared just in case. It's got everything I could ever look for in a kit and is the perfect size for our boat. All this and WATERPROOF. Thanks for shipping so fast.
07/07/2020
AB
United States
Perfect Raft First Aid Kit
Awesome first aid Kit for the raft! I float rivers and this is the perfect boat kit. So far this kit has been down the Smith River twice and the North Fork of the Flathead. Fortunately it has not required much use. The kit is not too big and not too small for 5 day river camp floats. Having a waterproof case means I could ditch the Pelican case I used to keep my old first aid kit in, and I could place the kit in an easily accessible spot right in front of the rower's bay. The layout of the kit is awesome and well organized. The quality of the contents is ok to good and should service most needs just fine or make for a great starter kit. The ability to strap it onto the boat frame but still have quick access to it via the clip and velcro back is perfect when you need to get the kit fast. The zipper is stiff like an Rtic soft-sided cooler and you have to make sure it is completely closed to assure the watertight seal. Overall I can recommend this kit for 5 day river float first aid kit. The other members of our float trips are ordering one for their rafts after seeing this one.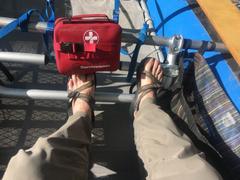 07/07/2020
Paul
United States
Outstanding Waterproof Kit
This first aid kit is very well labeled and makes it easy to find what you need even when in a stressful situation. I recently used it to apply burn creme and a band-aid on my niece's finger over the 4th. I also tested the kit by submerging it in a bucket of water for a few minutes and it didn't leak a drop! Communication has always been excellent and the quality of this kit is impeccable. 5 stars for both kit and seller.
Hi, Do you sell just the Watrproof bag? I have a first aid set up that I already love with lots of supplies and I'd just really need a durable water tight bag to put it all in.

Hi Steph. We are only selling set kits at the moment. We don't sell the bags individually for now.

Hello, I am from Latvia (Europa). I am interested in your WATERPROOF FIRST AID KIT. How can I buy it? Best regards, Reinis

We will have these available in the UK in the next 30 days. Perhaps you can import it to Lativia from there?

Hi, John from Toronto, Canada here. I want a kit for motorcycle touring. I ride solo. If I go down, there will be no point having my kit safely locked in a pannier where no one can see it's there. Also if I have to crawl over to my bike to get the kit, I don't need to be worrying about trying to find the key. Is your waterproof kit up to being strapped to the outside of my motorcycle, needing to face temperatures from 36º to 94º and potentially rain for days, not to mention wind. Or, maybe a lesser expensive kit in a dry bag would be better? PS. I like what you guys are doing!

Hi there John, I think this would be perfect for your bike. It can do much more than a few raindrops. This kit can be fully submerged for 30 minutes up to a one-meter depth.

If it doesn't live up to the standards of life on the road, send it back and we will give you a full refund!
Get to know us
Why Buy From Us
What people are saying about us..!
IT'S WILD OUT THERE, BE PREPARED!
Join the SURVIVEWARE CLUB for access to early release products, discounts codes, and more!